You've got bored and tried from classic burgers and all their type —lamb, turkey, brie and beef but have you ever a burger for dessert? Today I will give you the idea about Nutella burger it is a sweet piece of the American lunch and dinnertime staple. Below see how to make the patty, bun, and various fixings Nutella Burger;
Nutella Burger;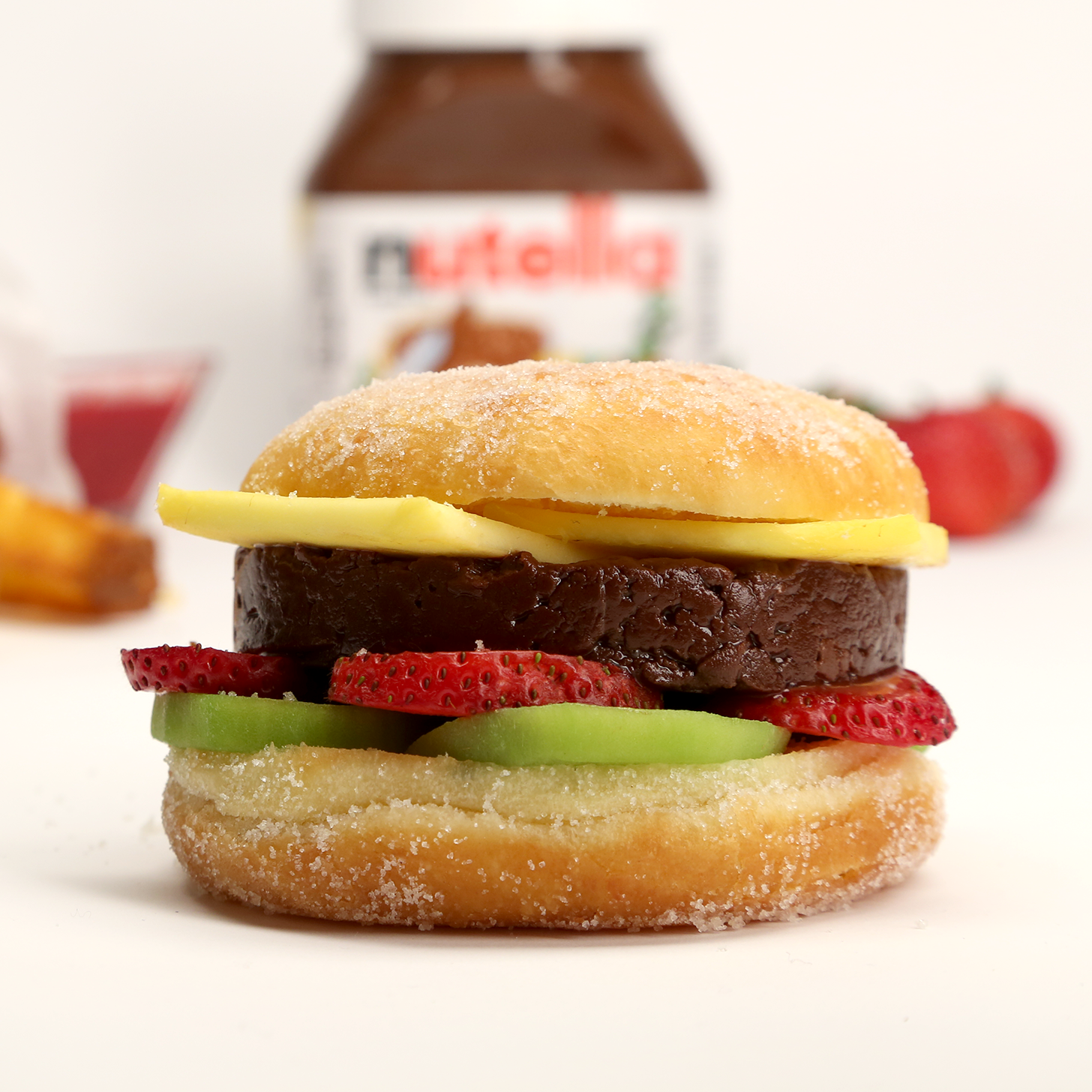 INGREDIENTS:
1/2 cup Nutella
2 tablespoons powdered sugar
2 sugared doughnuts, sliced in half
1 kiwi, peeled and thinly sliced
4 strawberries, thinly sliced
1 mango, thinly sliced
DIRECTIONS:
Step 1- By the use of an electric mixer; beat together the powdered sugar and Nutella until smooth, thickened, and a little stiff. And then Line a half-sheet pan with waxed paper. Arrange two ring shapes cookie cutters on the half-sheet pan and divides the Nutella between the two shapes, After all, preparation spreading it smoothly and Refrigerate it for 20 minutes, or until firm.
Step 2-To bring together the burger, layer the ingredients in this instruction: the bottom doughnut "bun," kiwi slices, strawberry slices, Nutella patty, mango slices, and the top doughnut "bun." and serve it.
Ingredients;
1 pouch Betty Crocker™ sugar cookie mix
3 tablespoons all purpose flour
1/3 cup butter or margarine, softened
1 egg
½ cup Betty Crocker™ Rich & Creamy vanilla frosting (from 16 oz container)
16 chocolate-covered peppermint patties (1.5 oz), unwrapped
2 tablespoons green tinted flaked coconut*
1 can (6.4-oz) each Betty Crocker™ red and yellow decorating icing
1 teaspoon honey
1 teaspoon water
2teapoons sesame seeds
Instructions;
Step 1- Take a medium bowl, flour, butter, combine cookie mix, and egg until the mixture not got soft dough forms. Shape dough into 32 (1-inch) balls. On ungreased cookie sheets, place balls 1 inch apart.
Step 2- Bake at 375° F for 10 to 12 minutes or until set and edges are light golden brown. Cool 1 minute; remove to cooling rack. Cool completely.
Step3- Spread about 1/2 teaspoon vanilla frosting on bottom of each cookie. Top 1 cookie, frosted side up with 1 peppermint pattie and 1/2 teaspoon green coconut. Pipe red and yellow icing on peppermint pattie for mustard and ketchup; top with remaining cookie, frosting side down. Repeat with remaining cookies.
Step4- Take a small bowl and combine honey and water. Brush on top of each cookie; sprinkle with sesame seeds.